Baby Patterns
Newborn babies are visually stimulated by high-contrast patterns. Their ability to distinguish colours and fine detail does not usually develop until 3-4 months.
This application shows a number of different patterns on a computer screen, with the following features:
Change between five different patterns at the touch of a button
Automatically cycle between patterns every few seconds (useful when you haven't got a free hand)
Animate the patterns gently from side-to-side
Make the patterns bigger or smaller, to suit your screen size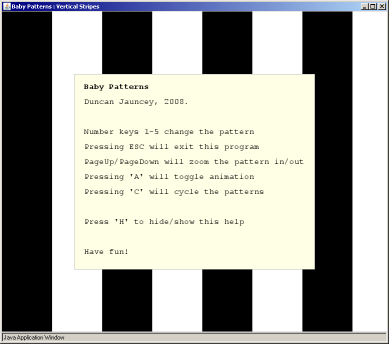 What to expect when BabyPatterns starts up
Start BabyPatterns
Simply click on the link below:
You may be asked to open/save a JNLP file. Please open this - if possible - using
Java Web Start
. If this does not work then find out
whether you have Java installed
on your computer and if not
download it from here
.
More
You can download a printable PDF of stimulating patterns from
Kideas' web site
. These are suitable for putting up in the nursery, etc.
Disclaimer
The author is not responsible for any damage, material or personal occurring as a result of using this software. Never leave a young child unsupervised while in front of a computer.